A tech pack is a document created by you, your designer or product developer that describes in detail every aspect of the item you want to produce. It is the blueprint of your product and contains sketches, measurements, specs, colorways, images, assembly details and more. It helps you keep track of costs and design changes and ensures both you and your manufacturer are in sync.
Why is it important?
Your tech pack is the foundation of your project. It is your blueprint for success. Imagine you are building a house without architects' drawings. It would be a mess, your contractor wouldn't know if they are doing the right thing until they did it. And if it's wrong you'll have to start again. Time consuming and expensive.
A quick Google search tells you that some of the most frequently asked questions by aspiring fashion brands and entrepreneurs are: How to work with manufacturers efficiently or how to reduce the number of samples. Technical packs are the answer.

Here are a few benefits:
Helps with accurate quotations
Saves time
Saves money
Limits errors
Controls quality
Improves communication and collaboration
Sketched construction and details.
Tech packages start with technical drawings. They illustrate what the completed handbag will look like. Care should be taken to ensure that every design detail is present. It's best to give both front and back angles. As well as both sides and internal layout. If there are pockets and other internal details make sure they are illustrated.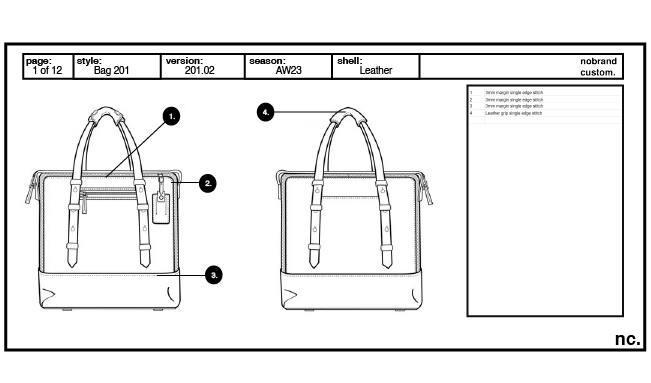 Start with the front and rear view of the item to give the overall aesthetic. Be sure to have construction details such as painted edges, stitching lines, clips, zips and hardware present.
Next the right and left side views. Again pay attention to how you would like the construction to look. Illustrate or note if the walls are to be soft or stiff. Are the edges folded and stitched.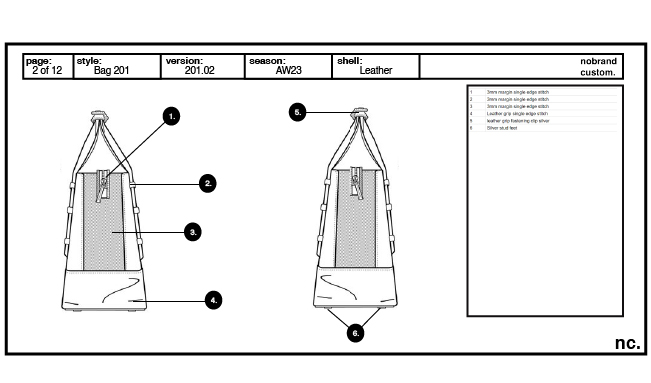 Moving on to the internal view shows details of pockets or dividers. Lining and stitching details. Show where you'd like your label (if you want one) is located.
Next add materials and placement of hardware. Be specific about the main exterior material used. Specify the lining materials and any relevant details. Accurately show the locations of your hardware (clips and zips) and any logos or hardware related design flourishes like rivets or locks.
Measurements.
You or your designer may choose to include the measurements on the same schematics illustrating the bag we discussed earlier. While you can do this, best practice is to have a separate schematics and a measurement table to go along with it. This ensures that it is easy to read and understand, as there can be a lot of information to display.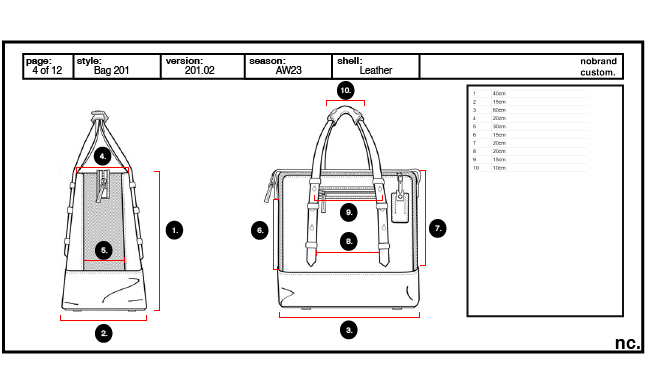 It is important to display how the measurements are taken. I.e a line from one clip to another will display that this is the value (measurement) of distance between these two points.
The schematics should display the location and relative distance of your hardware, clips, flap length, strap lengths and widths and if there is adjustment, what is the range of that adjustment.
The accompanying measurements table should contain the detail.
The Bill of materials.
The BOM or Bill of Materials is much more than just a list of the materials and components that make up your item. It is a tool to keep track of costs, waste and ensure every detail is present and accounted for. It helps you plan your total cost per item and allows you to adapt where efficient/necessary.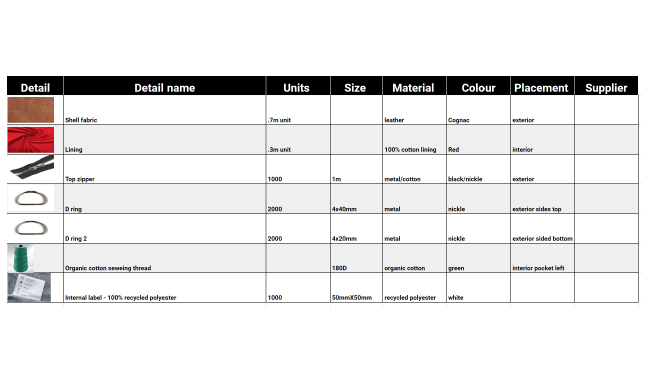 When manufacturing a handbag or any other accessory, you will need to decide on the shell material like leather, lining, trims, thread etc. You'll also want to have a record of your labels, hang tags, packing supplies for each item etc. The BOM keeps all of this information in one easy to use document.

You should update your BOM with supplier details and information from your manufacturer where applicable. This will help you plan further orders and keep track of material usage for future orders.
Share with your manufacturer.
Once you are happy with your tech pack save it as a PDF and share it with your manufacturer. If you need help finding the right manufacture, you can check our our guide here.

As you go through the prototype process your manufacturer should update you with suggestions, comments and options to improve or enhance your product. When changes are made you should update you tech pack and save it separately to reflect this eg 'Baguette bag design 1 – 1.01.' This way you will be able to keep track of the latest incarnation or revert back to a previous version if necessary.
If you need help putting together your technical package or think that nobrand custom could be a good fit for your project, please get in touch. We're always happy to hear from people who, like us, want to add something good to the world.